1 Researcher,
2 UX Designers
Lead in UX/UI Design,
Interaction design
6 weeks
(February - March 2023)
Figma, FigJam,
Adobe Creative Suite
Columbia University students face mental health challenges, and current campus resources are underutilized due to stigma and lack of awareness.
​
The D@C ProDesign and Google Design collaboration presents the Google UX Challenge, leveraging Google technologies to create a comprehensive mental health solution. The challenge aims to overcome barriers, improve accessibility to resources and support, and empower students to prioritize their mental well-being effectively.
The current Columbia health portal is challenging to use. I hope for a more convenient solution that enables easier access to campus resources.
It is time for us to discover a more impactful solution to empower students' mental health at Columbia University
As the demand for support grows, students encounter a cumbersome Columbia health portal that proves overwhelming with its dense text and lack of mobile-friendly design. Navigating the complex appointment process becomes an arduous task, further compounded by the absence of clear instructions for referrals and scheduling.
The absence of a centralized platform hinders students from managing their mental health journey seamlessly.
To create a mental health solution that empowers Columbia University students, breaking down barriers, increasing awareness, improving accessibility, and providing a centralized platform for managing support.
To better understand the needs of Columbia University students regarding mental health, we conducted an online survey with a sample size of 120 students.
What mental health challenges have you experienced while attending Columbia University?
Have you utilized mental health resources or support services on campus?
Are there any barriers or challenges you have experienced when seeking out mental health resources and support on campus?
The user survey conducted among Columbia University students highlight a need for comprehensive improvements in mental health awareness, resource communication, insurance coverage transparency, and digital platform usability.
What mental health challenges have you experienced while attending Columbia University?
Many students at Columbia University have encountered various mental health challenges, such as experiencing anxiety, lacking motivation, and struggling with sleeping patterns.
Are you fully aware of and utilized mental health resources or support services on campus?
A significant proportion of the survey respondents, accounting for over 54%, reported that they lack complete knowledge about mental health resources available on campus.
Are you fully aware of the in-network mental health support within the insurance plan?
Over 82% of the survey respondents stated that they do not have complete knowledge about the coverage and benefits of their Columbia health insurance plan.
Are there any barriers or challenges you have experienced when seeking out mental health resources and support on campus?
Our survey study revealed that 78.9% of students find the E-portal of Counseling & Psychological Services difficult to navigate.
Columbia Health Portal needs improvements in...
Students are struggling to navigate the appointment system, leading to difficulties in booking appointments and hindering their access to mental health services.
Limited availability and a lack of flexibility in the appointment process added stress for students struggling with health challenges.
It's challenging to keep track of available event resources, leading to missed opportunities for important mental health support and learning opportunities.
Columbia Students have problems in...
Stress and anxiety experienced by students are impacting their mental health and well-being, leaving them in search of solutions to improve their overall state.
Students pay for health insurance each semester, but often lack knowledge on how to use their plan effectively.
Students need access to professional mental health resources and learning materials, both on campus and off campus.
We created a user journey map that captures the entire process from browsing through available services, making an appointment, confirming the appointment, and ultimately completing the appointment. By visualizing the user's experience from start to finish, we can better understand their needs and expectations at each stage of the process.
We conducted a card sorting exercise based on the app features of appointment booking, service discovery, mood tracking, and profile management. Through this process, we identified areas where we could leverage Google tools, such as Google Maps and Google Calendar, to create a more seamless and user-friendly experience.
Streamline the E-appointment process to make it more user-friendly and accessible for all students.
Utilize Google Maps and Calendar integration to enhance appointment scheduling and management.
Develop a resource to help students easily locate nearby in-network mental health providers.
Create a system to track student mental health conditions for more personalized and effective treatment.
Establish a well-being events page to provide students with a wealth of mental health resources.
Improve the management of personal profiles to inform treatment options and ensure accurate record-keeping.
We used Figma to create a set of wireframes that provide a detailed blueprint of the overall visual structure and layout of the Columbia Health app. They provide a preliminary foundation for the app's interface, allowing for further refinement and optimization in subsequent phases of the design and development process.
After conducting extensive research on the original Columbia Health Portal and Columbia University's brand guidelines, we have decided to use a consistent color scheme and font in the app's design to reflect the university's brand identity.
A carousel that introduces students to the key features, including easy appointment scheduling, finding in-network providers, and tracking daily mood.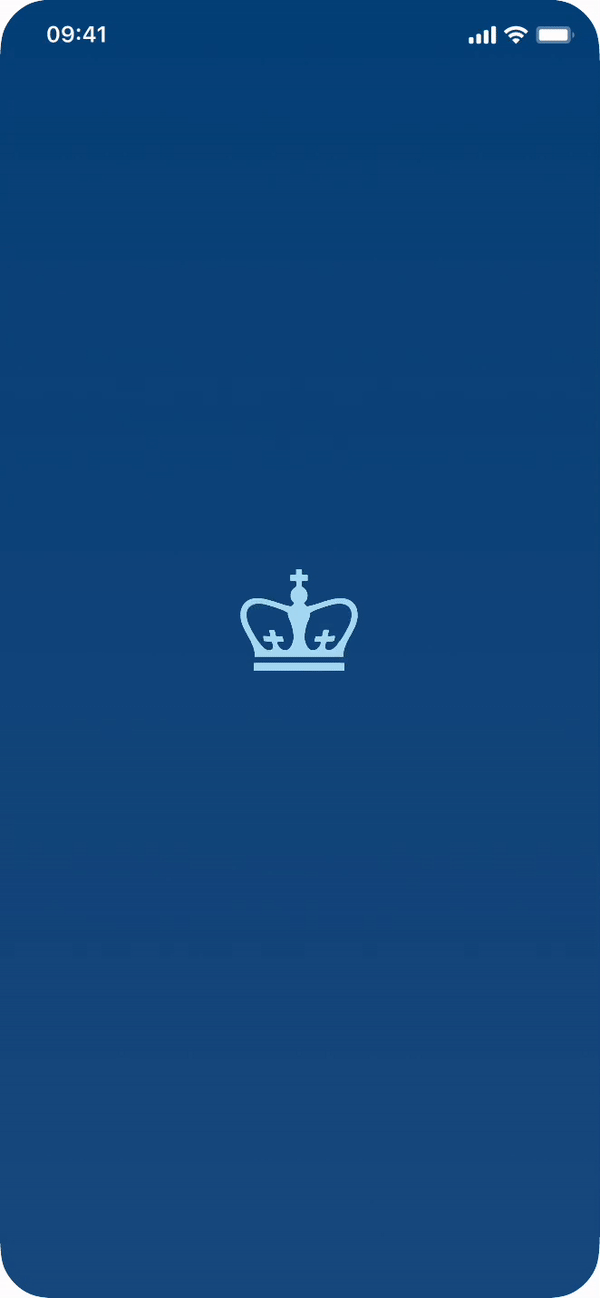 The main features such as making appointments, daily status, and upcoming events are prominently displayed on the homepage, allowing users to quickly find what they need.
Seamless Access
to Google Calendar
Add the upcoming appointments to Google calendar with just one tap
With direct access to Google Maps within the app, users can effortlessly locate the exact location of their appointment and navigate to it seamlessly.
Integrating happy moments with Google calendar and providing an easy way to view and remember these positive experiences